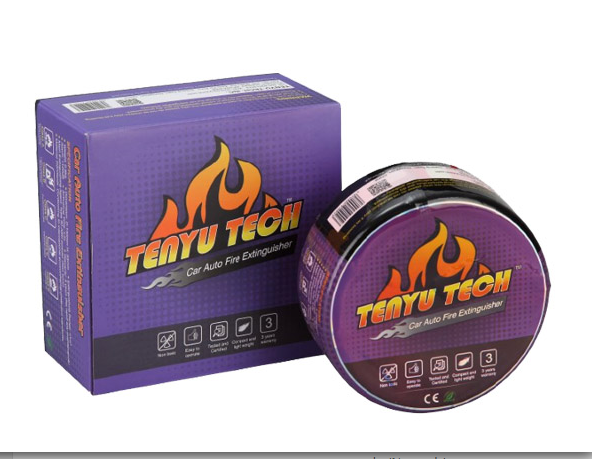 Description
PRODUCT NAME :0.8kg Auto engine automatic fire extinguishing device
We can accept OEM if you can order above 1000pcs
重量(Weight):0.8kg
尺寸(Dimension):D130mm H55mm
灭火空间(Extinguishing Range):≈1m³
警报响度(Alarm):≈120dB
灭火反应时间(Activating time):≤2s
主要灭火剂(Main extinguishing agent):Type90 ABC powder(Nontoxic)
检验标准(Inspection):Nationnal quality standard
质保期(Warranty):3 years(No need any maintenance)
PRODUCT PACKING
Photo
TYPE
WEIGHT
Diameter
Fire Range
Alarm loudness
Feedback Time
PK.NO.

TY-0300

0.3kg
100mm 38mm
≈ 0.3m³
≈ 115dB
≤ 3s
48
TY-0800
0.8kg
130mm 55mm
≈ 1 m³
≈ 100dB
≤ 2s
24
TY-0100
1.25kg
150mm 52mm
≈ 1.5m³
≈ 120dB
≤ 3s
18
PRODUCT DESCRIPTION:

The automatic fire extinguishing ball is composed of a built-in driving device, a foam casing,
a mounting bracket, and an ABC dry powder fire extinguishing agent.
ADVANTAGES:
1,Easy to use, small in size, easy to carry and quick to extinguish
2.Dry powder extinguishing medium, safety and environmental protection;
3.Unique dual lead design technology, 3s instantaneous fire extinguishing;
4.Automatically start fire extinguishing, convenient for the elderly and children to operate;
5.Extinguishing level covers Class A/B/C/E/F fires with a fire-extinguishing space of 3m3;
6.The starting sound of the fire extinguishing ball reminds the surrounding personnel to discover 7.the fire in
time and avoid further losses;
8.The unique moisture-proof process and open fire mode are suitable for any extreme environment.
9.5 years long effective period, no maintenance cost within 5 years;
OPERATION METHOD:
The fire extinguishing ball has two operation modes. Firstly, in some areas where fire may occur, the dry
powder fire extinguishing ball device fixing frame is first placed in a designated position. When a fire occurs,
the flame ignites the lead wire and the dry powder fire extinguishing ball device will be in the 3S. Start in time
and quickly extinguish early fire! Second: When a fire occurs in a certain area, both the elderly and the children
can throw the fire extinguishing ball to the designated area. Once the flame comes into contact with the lead,
it will quickly ignite and start within 3 seconds, thus rapidly extinguishing the fire.