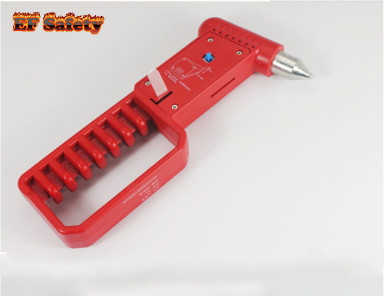 Car safety electric Escape hammer life-saving hammer
Features:
1. Brand new and high quality
2. High positive feedback rate
3 . A Important tool for your car
4. Set you free from the danger by cutting the seat belt
5. You can break the car window in an emergency situation
6. Fixed in a holder, it will not fall even if the car bumps, and can be removed easily.
7. Suitable for cars, trains, buses, trucks, ships and so on
Description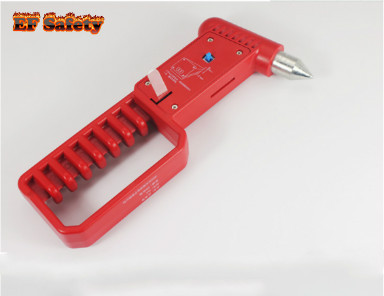 Weight:250g
Size:201*92*31mm
The emergency hammer hammer should be a solid steel structure. The hammer head is inlaid with hard

alloy and the hardness is not less than 1300HV10.



2. The emergency hammer handle should have anti-slip and protective handle design. The non-metallic materials
used in the hammer handle and bracket shall be flame retardant, low-smoke and non-toxic (low-halogen non-flame
retardant materials, and their flame retardancy shall comply with the relevant provisions of GB 7258.

3. The materials used for emergency hammers should meet the requirements of GB / T 30512.
4, the emergency hammer handle, the bracket should be free of flash burrs, the surface is flat, no deformation. The color
should be red, no color difference, and can withstand micro-alkali.
5, can withstand the emergency hammer and the bracket with reliable, no loose phenomenon, should be easy to remove
in an emergency.
6. When the emergency hammer is taken out from the bracket, it should have an audible alarm function. If the alarm device
is installed with a battery, it should be easy to replace, and indicate the battery installation position and replacement cycle.
7, the window is generally tempered glass, with the key, high heel heel can not be broken, the safety hammer can easily
break the window. Since the middle part of the window glass is the strongest, pick up the safety hammer and hammer the
four corners of the window. Some glasses are film-coated, and the glass does not fall off immediately after breaking. In this
case, it can be opened with ankle. After the glass has fallen off, passengers should jump out in a timely and orderly manner
and transfer to a safe place.